Please note that I am no longer the maintainer for Progect. The new maintainer is Rick Price, and he can be reached through the Progect Yahoo Group.
The official Progect's page is here, at Sourceforge.
Progect's desktop companion : The official page of PDesk.
There's also a Progect Yahoo Group, where you can join the maintainer and the user community.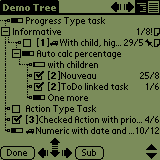 Download it now at: Progect Download
Progect 0.22
«Progect Manager has impressive functionality and don't be misled by the fact that it's free - it's quite comparable to competing commercial products… Progect Manager is my pick of the crop… a better choice than its more pricey competitors.»
(PalmUser magazine, issue 6)
2006-05-12 15:06:45